This post is just gonna be a few things that make me happy in life. I am sure I am just repeating myself over and over in some of my posts. . .but right now I am happy, so I am going to keep the train on that track!
Baby animals:
I have a VERY soft spot in my heart for baby animals especially kittens. I would definitely classify myself as a 'Cat Person' but I find much happiness with dogs as well. I have never been able to resist rescuing, bottle feeding, holding, loving, cuddling a kitten. . .they are one of my favorite things!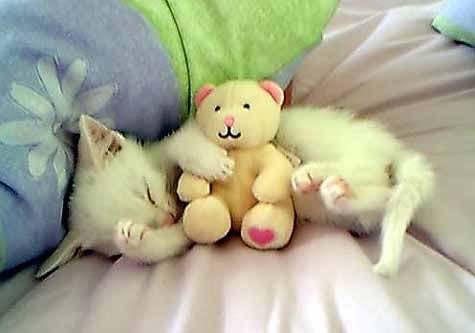 Dance Music/Club Music:
I LOVE, LOVE, LOVE my dance rhythm music. I get a little frustrated at the lyrics in most songs, but give me a nice beat and something catchy and I can't help but move my body! Which leads right into DANCING: I enjoy dancing, just dancing to the radio/CD in my living room where no one watches me!
Starry nights:
A clear, warm, beautiful starry night is really breathtaking. It is a reminder of how wonderful and beautiful the universe around us is. When I look up at the starry sky I am reminded of sleepovers on the trampoline, playing night games, and sitting around a campfire. Those memories make me happy!
Laughing:
If there is one thing that can fill my entire being up with joy, it's laughing. It's not only healthy for us. . .but I don't believe I can be stressed, sad, discouraged at the same exact time when I am genuinely laughing. We can't always control 'life' so why not find the humor and laugh at it. Laughter gives me a few moments (sometimes more) away from the pain that life can cause.
Just one more. . . .
Knowing that GOD loves me:
Having Faith, a testimony, the gospel of Jesus Christ and knowing why I am here and where I am going after this life is over brings me not only happiness but peace. How wonderful it is to understand that enduring in this life will bring us so much more in the next. I could go on and on about this, but I just know that my testimony and knowledge of my Heavenly Father's Eternal plan gives me a purpose in this life. . . and is the foundation of all my happiness.
Those are just a few of my favorite things!

Save a Life* Be Someone's Hero* Be an Organ Donor